Plan a Farm Wedding. Get back to basics with Farm Themed Wedding. We found an ideal location for your Farm Wedding Theme in Texas. It takes the big state of Texas to have a great farm wedding, intimate wedding or destination wedding. Your Texas farm wedding does not have to be expensive. Las Brisas Farm offers simple country wedding plans and packages for your intimate wedding or big – time country wedding party. Thank you for mentioning "I found you online – in Country Weddings".
---
Featured Texas Farm Wedding Destinations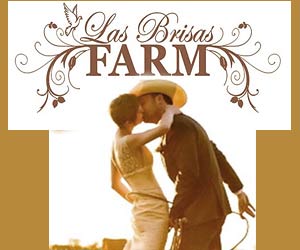 Las Brisas Farm
- 1108 Ross Prairie Church Road, Fayetteville, TX | 979-378-1108
Farm weddings, intimate weddings, elopements, garden weddings and receptions.
Web:
www.lasbrisasfarm.com
Visit our US destination wedding section or explore the web sites on this page for some superb wedding lodging options.

Pet Friendly Weddings - Bring My Pet
Pet friendly wedding and honeymoon venues that cater to pets and pet owners.